The former crown prince of Jordan says he has been placed under house arrest as part of a crackdown on critics.
The half-brother of Jordan's King Abdullah II says he has been placed under house arrest, after the country's army chief said earlier that Prince Hamzah bin Hussein had been asked to "stop some movements and activities that are being used to target Jordan's security and stability".
Prince Hamzah, a former crown prince, said in a video recording that he was not part of any foreign conspiracy and denounced the governing system as corrupt.
He said he was told that he "was not allowed to go out, to communicate with people or to meet with them".
"It's a very sad and unfortunate turn," he added in the video, which was sent to the BBC by the prince's lawyer on Saturday.
General Yousef Huneiti, the Jordanian army's chief of staff, had denied reports on Saturday that the prince was arrested. He said an investigation is still continuing and its results will be made public "in a transparent and clear form".
"No one is above the law and Jordan's security and stability are above all," he told the official Petra news agency.
The news agency reported earlier that Jordanian security forces had arrested a former adviser to King Abdullah and others on "security-related" grounds.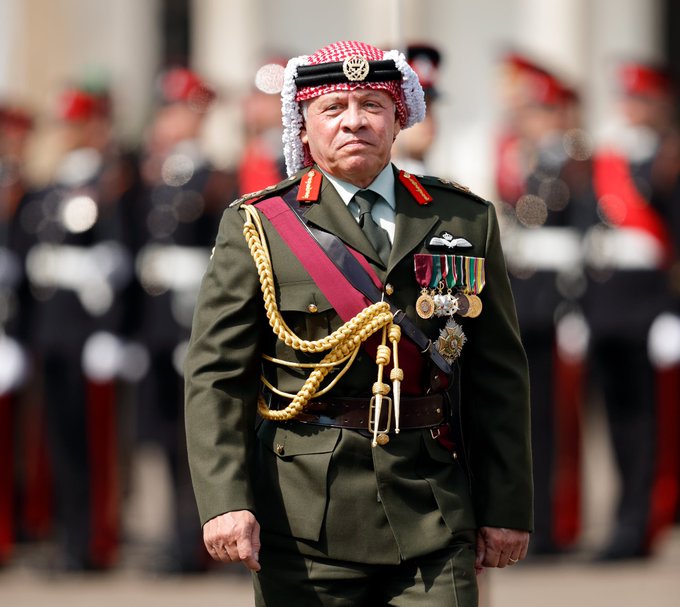 Bassem Awadallah, a longtime confidant of the king who later became minister of finance, and Sharif Hassan bin Zaid, a former royal envoy, were detained along with other unnamed figures, Petra said.
King Abdullah has ruled Jordan since the 1999 death of his father, King Hussein, who ruled the country for close to a half-century. The king has cultivated close relations with US and other Western leaders across the years, and Jordan was a key ally in the war against the ISIL (ISIS) group.
The country borders Israel, the occupied West Bank, Syria, Iraq and Saudi Arabia.
King Abdullah had chosen Hamzah as his crown prince hours after their father died of cancer in February 1999, but stripped him of the title in 2004, saying he had decided to "free" him "from the constraints of the position of crown prince in order to give [him] the freedom to work and undertake any mission or responsibility I entrust [him] with".
The current crown prince is Abdullah's oldest son, Prince Hussein, aged 26.
Arrests of top officials close to royal family members are rare in Jordan.
Awadallah, who was a driving force behind economic reforms before he resigned as chief of the royal court in 2008, has long faced stiff resistance from an old guard and an entrenched bureaucracy that flourished for years on government perks.
Jordan's powerful intelligence agency, with a pervasive influence in public life, has played a bigger public role since the introduction of emergency laws at the outset of the coronavirus pandemic last year, which civic groups say violate civil and political rights.
Jordanian riot police last month broke up protests in Amman and other cities called to mark the 10th anniversary of Arab Spring pro-democracy demonstrations, and authorities arrested dozens of activists, witnesses said.
The country's economy has been battered by the coronavirus pandemic. Jordan, with a population of approximately 10 million, also hosts more than 600,000 Syrian refugees.
Countries voiced support for King Abdullah on Saturday.
"We are closely following the reports and in touch with Jordanian officials," US State Department spokesman Ned Price said. "King Abdullah is a key partner of the United States, and he has our full support."
A spokesman for Egypt's presidency wrote on Facebook that Egypt backed the king's efforts "to maintain the security and stability of the kingdom against any attempts to undermine it".
Bahraini King Hamad bin Isa Al Khalifa, Lebanese Prime Minister-designate Saad al-Hariri and the secretary-general of the Gulf Cooperation Council also voiced their support for King Abdullah.